Among 520 startups;
2018 fellows from all over the Europe & Eurasia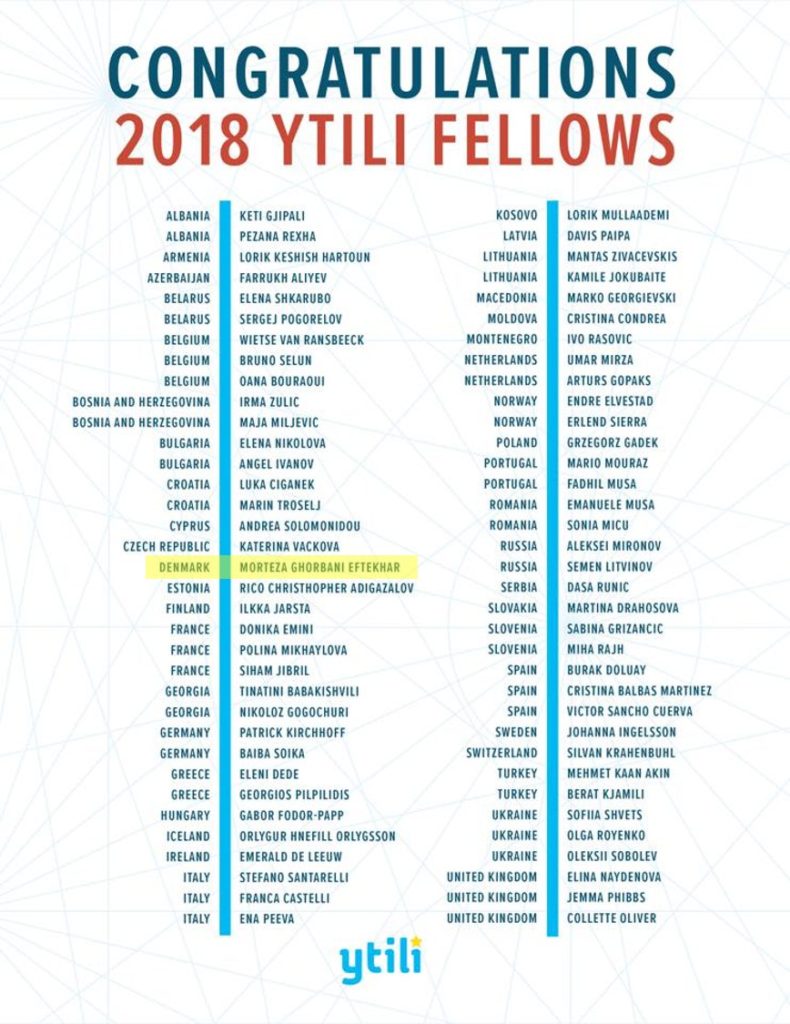 What is Ytili?
Launched in 2016, the Young Transatlantic Innovative Leaders Initiative Fellowship is the flagship program of the Young Transatlantic Innovation Leaders Initiative (YTILI) of the U.S. Department of State and is supported in its implementation by The German Marshall Fund of the United States (GMF).
Entrepreneurs are a driving force for economic development, job creation, security, and good governance across Europe. YTILI empowers young European entrepreneurs and innovators with the tools, networks, and resources they need to turn ideas into action and grow successful enterprises. Recognizing that European entrepreneurs face unique challenges to starting a business, the YTILI program is also a vehicle for building a transatlantic network of leaders that can more fully contribute to an ongoing policy dialogue to strengthen entrepreneurial ecosystems and opportunities for innovation.
Why Apply?
· Gain professional experience, skills, and connections valuable to enhancing your business or social venture.
· Network with a dynamic group of experts and mentors in the United States and Europe.
· Expand your professional network and develop relationships with peers and counterparts on both sides of the Atlantic.
· Explore the policy context, financial landscape, and networks of U.S. entrepreneurial ecosystems.
· Join the growing network of dynamic European entrepreneurs committed to enhancing the transatlantic relationship and contributing to the growth of the entrepreneurial ecosystems in their home communities.
Program Details
In 2018, the YTILI Fellowship will engage up to 70 young European leaders in a series of professional development and leadership activities to support the growth and development of commercial and social business ventures in their home communities. Fellows selected for the program will work with teams of mentors to design a specialized program around capacity building as an entrepreneur, innovator, and changemaker. In June, fellows will convene for the opening summit in Portugal to plan for the upcoming fellowship year, network with other European entrepreneurs, and hear from industry experts on best practices in diverse business topics.
Fellows will also participate in a ten-day professional experience in an emerging U.S. economy, designed in collaboration with expert mentors from business, non-profit, and government. At the conclusion of the program, fellows will have an opportunity to share their personal experiences during the closing summit in Washington, DC. U.S. government leaders will meet with fellows to engage in a transatlantic policy dialogue on strengthening entrepreneurial ecosystems.
The 2018 YTILI Fellowship year will commence in April 2018 and conclude in December 2018. The cohort of up to 70 fellows will travel to the United States for their fellowship experience in October 2018. The full 2018 YTILI cohort will be connected virtually in pre-departure activities, an online platform, and at the Portugal opening summit in June 2018. For more information on eligibility and program requirements, download the Fellowship Program Overview and Selection Process.
Reference: Ytili